Components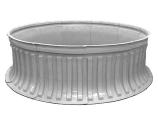 Fan Stacks
Fan stacks are made from fiberglass reinforced with an isophthalic gel coat with special additives to resist harsh weather, solar rays and constant dampness and water that the component must withstand throughout its operating life.
Built at a typical thickness of 1⁄4 of an inch and thanks to the structural design that incorporates large reinforced ribs along the length and breadth of segments, an aerodynamic model is provided that allows the free passage of air without any restrictions, thus creating an efficiente chimney effect to allow substantive recovery in static operating load of the fan. These fan stacks are built in a variety of diame- ters and at a height of 6, 10, 14 and 18 feet.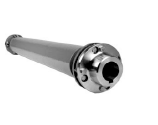 Drive Shafts and Couplings
The transmission shaft is made from epoxy-resin reinforced fiberglass. It is built on a single piece to guarantee transmission of power between the motor and the speed reducer, and with flexible fiberglass elements to absorb torsion vibration due to any possible misalignment. Each shaft is dynamically balanced in the factory and selected widely outside the critical fatigue speed.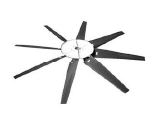 Fans
Fan blades are made from reinforced fiberglass with epoxy resin. These vanes are very light as they are made with the most advanced technology available, thus providing a light weight fan blade that is highly resistant to the extremely harsh environments seen in a cooling tower application. The aerodynamic design of these blades achieves a highly efficient and low-energy load operation. Each vane is balanced individually and all are of the exact same size and weight. This provides for silent and vibration-free operation, and facilitates the exchanging of any ventilator blades for new ones without having to rebalance the system.
The main mass consists of two thick galvanized steel plates to which stainless-steel fittings and bolts are connected. The number of blades required depends on the specific use.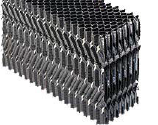 Fill Pack
The fill pack consists of levels of packets formed by laminate PVC sheets, 19 millimeters thick. Resistant to corrosion and flame, may withstand biological attacks and deterioration by fungus, bacteria or any other. Different kinds of fill pack are available and are used depending on the characteristics of process water and the environment in which it operates.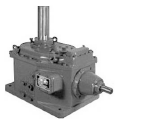 Speed Reducers
Right-angle speed reducers specifically designed for use in cooling towers. Its helicoidal conical gears and straight helicoidal gears are built in accordance with AGMA and CTI standards and are selected at a minimum service factor of 2.0, according to motor load. They are designed to operate in both directions.
Mechanical Support Equipment
Made from a single hot-dipped galvanized tube. The support has been designed with a rigid structure to keep the motor-reductor-fan aligned and without vibration. Epoxy coatings can be added for additional life if customer desires.
Do you have doubts or would you like
Know more about the towers?
Let's talk
In Mexico: 01 800 263 5300
Other countries: +52 (81) 1158-5300
Are you ready for
quote ?
Do you have doubts or would you like
y nos pondremos en contacto contigo
para entregarte la cotización.