2000 SERIES
COUNTER FLOW
Capacity: 13 to 381 tons
(38 to 1,142 GPM @ 95°F/85°F/78°F)
Fiberglass structure and walls
Low installation and operating costs
Little noise and vibration
Low power consumption per ton
Easy maintenance

SERIES 2000 ADVANTAGES
Speed reducer
IM® drive system with a speed reducer instead of bands and pulleys, directly connected to the motor by a flexible coupling that guarantees maintenance and adjustment free duration.
Mechanical equipment support
The drive system is mounted and aligned on a unit mechanical equipment support made from immersed galvanized steel or stainless steel to guarantee maximum stability of all moving components.
Distribution system
This is made up of a main distribution head with PVC arms at the sides, evenly distributed in order to achieve optimum wetting based on distribution nozzles. The later are located and calibrated according to the flow of process water and that may be interchanged with other sizes of nozzles if the flow is greater
Cold-water tray
Made from fiberglass molded into a single piece ¼" thick, with well rounded corners for easy cleaning. The tray is supported on a galvanized sheet or stainless-steel frame which does not come into contact with process water.
Fiberglass walls
Made from fiberglass and supported on extruded beam and columns also made from fiberglass ¼" thick and caulked at both ends with a butyl sealant in order to guarantee a perfect seal against water in the interior of the tower.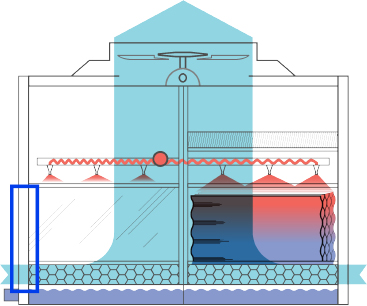 Fiberglass structure
The entire tower structure is made from extruded fiberglass sheet ¼" thick that is highly resistant to compression and stress. These structural sheets guarantee a corrosion-free operating life.
Air inlet louvers
Made from thermo-formed laminar PVC and framed so that it may be removed easily to facilitate maintenance. Installed on the four sides of the tower thereby guaranteeing the flow of air required free of any foreign elements that may possibly affect correct equipment operation.
Packing
Packing consists of levels of packets made up of laminate PVC sheets (polyvinyl chloride) 10 millimeters thick, resistant to corrosion and biological attacks and deterioration by fungus and bacteria. PVC packing is flame retardant in accordance to ASTM E 84 standard.
Spray removers
Self-supporting, high-efficiency spray removers designed in three stages to guarantee maximum retention of water entrainment. Made from PVC 10 millimeters thick and assembled in self-supporting unit squares and easy removable so as to provide for easy maintenance.
Axial fan
Axial ventilator with curved-profile, adjustableangle polyamide resin or aluminum blades for low sound and vibration.
Low shipping cost
The IM® 2000 models are shipped completely as- sembled. Their design allows the structure to slide downwards so that the tower body may be suppor- ted in the interior of the cold-water tray, reducing its height during transport. On-site assembly is quick, as it is easy to hoist the tower to its standard height, thanks to the rails fitted to the columns.
Do you have doubts or would you like
Know more about the 2000 Series?
Let's talk
In Mexico: 800 263 5300
Other countries: +52 (81) 1158-5300
Are you ready for
quote ?
Please fill in the form data
And we will get in touch with you
To give you the quote.