1000 SERIES
DOUBLE CROSSFLOW INDUCED-DRAFT
Capacity: 202 to 1,393 tons (605 to 4,179 GPM @ 95°F/85°F/78°F)
Available in galvanized, galvanized with epoxy coating for marine environments and stainless steel
Low installation and operating costs
Little noise and vibration
Low power consumption per ton
Easy maintenance
SERIES 1000 ADVANTAGES
Rotating-turbine nozzles against fixed- orifice stationary nozzles
A uniform water distribution pattern on the packing load area is a major efficiency factor. The rotating-turbine (A) va- riable-flow sprinklers used for IM® towers provide a square, constant and uniform distribution pattern, irrespective of the flow of processed water.
Fixed orifice stationary nozzles (B) used in other brands provide uneven, conical dispersion patterns that create dry areas and water overload areas, which may change in res- ponse to variations in flow.
Variable-flow operation
Thanks to its low pressurized-water distribution system (2.3 – 4.5 psi) with rotating-turbine and variable-orifice sprinklers (automatic adjustment of variable flow), the tower may operate at its design hydraulic capacity while retaining the water distribution pattern on the packing.
High-efficiency PVC laminate packing
Supported on the floor, with integrated drip and entrainment removers, which may be replaced without having to disassemble the tower.
Low sound and vibration levels
The high-efficiency aluminum axial ventilator fitted with flexible and adjustable-angle vanes completely eliminates all resonance frequencies.
The use of "T-Caps" and FRP ventilation rings with a rounded air inlet increases efficiency and reduces both sound and vibration.
Self-supporting frame structure
Included in the Series 1000, need not be mounted on a support beam structure, which represents a saving in installation costs.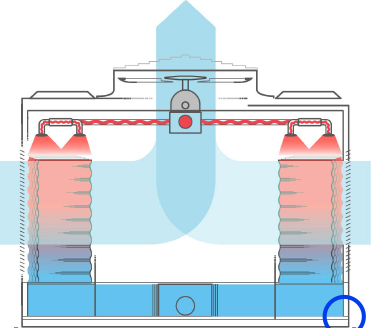 Twin wall
The interior flat wall in the packing area reduces "loss through the wall", thereby increasing tower efficiency.
Bridge joint with mechanical equipment support and hot water distribution system
The tower requires one hot water inlet only, which allows the connection of a number of towers without any additional flow regulations valves, thereby reducing installation costs.
The volume of water in the torque tube reduces the noise propagation of mechanical equipment to the tower's structure and, therefore, to the building.
The multiple sprinklers of the water distribution system (PVC) may be rotated 90° or disassembled easily from the tower in order to facilitate maintenance.
Advantages of the Low Pressurized Water Distribution System
towers may operate between 20% and 100% of their hydraulic capacity that, within an integral system, may represent a substantial saving in energy.
As there is no hot water tank, a large quantity of mass in the upper section of the structure is removed, thereby providing improved behavior under seismic loads and considerably reducing the weight from the building
The system operates at low pressure (2.3 – 4.5 psi) and adjusts automatically to variable flow conditions, thereby providing totally balanced water distribution on each packing cell under any flow condition, without the need to use regulating valves.
The low pressurized variable-flow system operates without creating any fluctuation in the L/G ratio of the tower, as usually occurs in "gravity" systems, in which changes in differential pressure, direction or wind speed cause fluctuations in the L/G-ratio. Being able to operate using a stable L/G improves efficiency and makes thermal operation most stable
The absence of hot water tanks removes an area that is highly susceptible to the growth of bacteria and algae
The reduced volume of water results in less incrustation crystals and, therefore, less use of treatment chemicals. This is because if there is less water, there is a reduction in Holding Time Index (HTI), which has a direct effect on the growth dynamics of incrustation.
The tower may operate at higher concentration cycles and at a higher speed, therefore, there is a reduction in the creation of biomass films and layers and the use of chemicals and water is more economical.
Do you have doubts or would you like Know more about the 1000 Series? Let's talk
Mexico: 800 263 5300 Other countries: +52 (81) 1158-5300
Are you ready for quote ?
Please fill in the form data And we will get in touch with you To give you the quote.