IM Maintenance
IM® offers a comprehensive maintenance, major repairs and spare parts for
cooling towers of all brands.
Basic
Silver Bullet®
Basic Maintenance involves
the installation of a
Silver Bullet® water
treatment equipment defined
by the volume of water
to be treated in the tower.
Plus
Silver Bullet® + Mechanics
Plus Maintenance includes
the installation of
the Silver Bullet® equipment
plus all mechanic
maintenance for
the tower.
Ultra
Silver Bullet + Mechanics
+ Peripheral Equipment
Ultra Maintenance covers
also peripheral equipment,
such as loop pump, boiler,
hot water tanks,
plate exchangers,
among others.
Silver Bullet®: more efficent towers
Silver Bullet is a chemical-free water treatment system that prevents bacteria,
inscrustation of salts and corrosion in your tower,
resulting in efficiency and energy savings.
How does it work
The ambient air enters the reactor through pumps.

The UV light and patented magnetic fields transform the room air into oxygen radicals.
Oxygen Radicals, upon contact with water, form hydroxyl radicals.

Hydroxyl radicals work as a potent biocide, controlling microbiological growth in the cooling tower.
The hydroxyl radicals oxidize the organic matter in the water, keeping it clean and removing scale, so that the systems can work properly, improving the efficiency of the cooling system.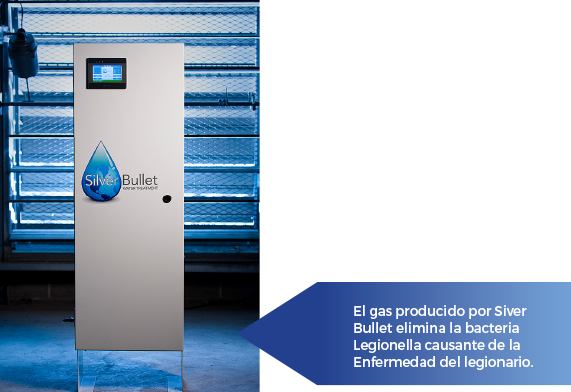 Benefits
Protection against microbes, scale and corrosion

Water savings between 10-30% when the
tower concentration cycles are increased

It eliminates the use of toxic chemicals

The equipment is leased on a monthly basis

LEED Credits for green buildings

NSF certification 61 for human consumption
Silver Bullet vs. Chemical Treatment
Silver
Bullet®
Traditional
system with
chemicals
SCALE
CONTROL Full, 100% of
the time. Incomplete
unless chemicals
are added
constantly
BIOCIDE
Full, 100% of the time.
Toxic chemicals
needed to operate.
Incomplete unless
chemicals are
added constantly.
CORROSION
Lower
than
industry /
ASHRAE
This needs more
inhibitors to
protect against
adjustments
in Isq-01,
chlorination, etc.
EXISTING
INCRUSTATION Completely
removed
with normal
operation. Annual cleanings
and additional costs
required.
ENERGY SAVINGS
Increased heat transfer
efficiency by removing the
scale on system pipes and
surfaces.
Less efficient heat transfer
due to incrustations,
which increases energy
consumption.
WATER SAVINGS
Make-up water
consumption is reduced
by 10%-30%
It needs high purges
to prevent reversal of
treatment chemicals
and CC
Mechanical maintenance
Full inspection of the equipment, verifying factory settings

Verify air-tightness and check that there are no leaks, drag, or pipes affecting equipment efficiency.

Inspection of water distribution system and proper functioning of its jets

Verify that the hydraulic inlet, outlet, drain, overflow and water replenishment connections are correct

Inspect the quality of recirculation water according to the recommended parameters, and present alternative solutions for your system

Inspection of torque and bolts in mechanical equipment, alignment and factory settings for the motor system

Inspection of ventilation systems according to specified torques, alignment, angles and design settings

Check vibration in motor systems comparing against your ISO10816 standard

Cleaning of cold and hot water basins, as well as their transfer areas

Inspection of oil levels in gearboxes, verification of operating conditions and protection recommendation

Installation of Silver Bullet® equipment defined by the volume to be treated in the tower
Spare Parts
We offer you a
wide range of
spare parts for IM
towers and other
brands.
Major repairs
It has IM to throw your tower back. We make repairs From spare parts to mechanical service. get in touch With one of our experts.